President's Message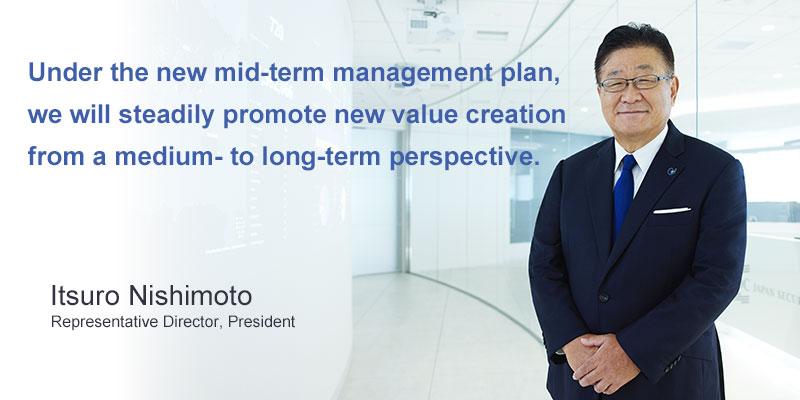 Steady progress made on future business expansion initiatives despite the impact of the prolonged state of emergency
I would like to express my deep gratitude to our shareholders and investors for their ongoing support.
During the prolonged state of emergency declared in response to the fifth wave of COVID-19 infections in Japan, we worked to prevent infections among Group employees, moving quickly to provide staff with access to vaccinations and ensuring that the majority of our workforce continued to utilize our telework system.
The pandemic has resulted in rapid growth of demand in the digital transformation (DX) field. In response to this growth in demand we have expanded the lineup of telework and cloud computing-related services provided by our Security and SI businesses. In addition, in preparation for the expansion of our security services tailored to small- and mid-sized enterprises, we have moved to further consolidate our Group companies. We recently changed the name of Group company Asian Link to LAC CyberLink, and also carried out a transfer of our shareholdings in I Net Rely Corporation with the aim of generating further synergies between the Group's businesses.
Despite the impact from the stagnation of the business activities of client companies, our Security business expanded the range of products and services it provides, thereby achieving substantial increases in sales and profits. However, the SI business saw its sales and profits decline owing to sluggish sales of hardware and software and IT maintenance services. Companywide, net sales increased but operating income fell year-on-year during the first half. Despite this, net income attributable to owners of parent increased sharply.
Mid-term management plan (FY2021-FY2023) announced as part of new growth strategy
In preparation for the anticipated rapid societal change resulting from digital transformation and technological innovation between now and 2030, on June 18 we announced and began implementing a new three-year mid-term management plan (FY2021-FY2023). In the new plan we have defined our corporate mission as: "Leverage our strengths in IT and cybersecurity to tackle societal issues, support the country's development, and safeguard people's livelihoods". The new plan includes three growth strategy policies aimed at accelerating the Company's growth. The first of these is to build "endurance" by boosting the profitability and added value generated by our core businesses. The second is to increase our "adaptability" by taking a more agile approach to developing new services and cultivating new customers. The third is "leveraging digital capabilities" to promote the digital transformation of the Group's management and businesses.
Achieving growth over the medium to long term will require that we develop personnel able to transform the Group and its management strategies through fully harnessing digital technologies. Leveraging the digital capabilities of specially trained personnel and strengthening our management and business foundations will enable us to enhance the earnings power of our core businesses and respond flexibly to market changes. In line with the central theme of our new plan: "Creating Shared Value and Tackling New Challenges", our Security and SI businesses will work together with customers to create shared value on the way to achieving our FY2023 business targets while also creating new services and helping to shape the society of the future.
Full-year earnings forecast is unchanged
The latest state of emergency in Japan was lifted nationwide in October 2021, and we are now seeing a pickup in the business activities of our corporate clients. The Security business is further stepping up its efforts to capture demand for security solutions as we move further into the second half of the fiscal year. In the SI business, we have some concerns about the number of orders being received for development services, but we plan to increase sales by rolling out new proprietary finance-related solutions. In light of the current business environment, we have left our previously announced full-year earnings forecast unchanged.
I would like to take this opportunity to apologize for concerns relating to the lawsuit brought by Nippon Export and Investment Insurance (NEXI). We have filed a counterclaim and will present evidence supporting our claim in future court proceedings. I respectfully ask our shareholders and investors for their continued support as we pursue medium- and long-term growth.
December 2021
Itsuro Nishimoto
Representative Director, President