Corporate Philosophy
Corporate Philosophy
Our goal is to become an indispensable member of the society by constantly evolving and continuously growing with a high level of corporate management for sustainability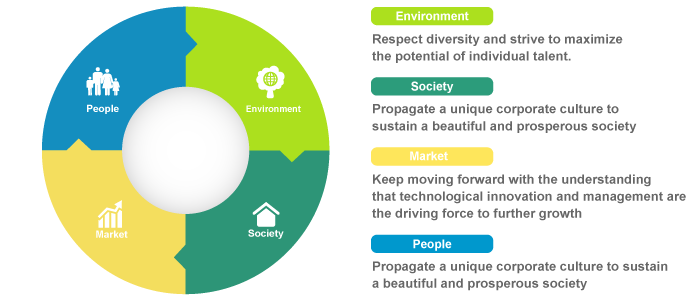 Management Vision
To contribute to the creation of a safe and abundant future, to be loved by the society and live together in harmony with the human populace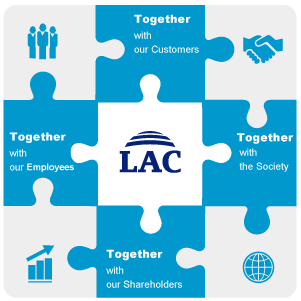 We always have a respectful attitude towards challenges so that LAC and its employees will continue to grow together.
We offer an appropriate work environment for our diverse employees so that they can reach their full potential.
We assist in the career development of each employee so that they could value their life more than ever.

We always strive to see things from our customers' point of view for us to understand their real needs. In addition, we provide our knowledge as professionals, and together with our customers, we find the best solutions for them.
We possess the knowledge and ability to provide the highest level of cyber security in the nation, in order for us to protect our customers' IT systems, their valuable data and their business.
Our IT technical capability is the solid foundation that we offer in our services and along with this, we keep challenging ourselves to come up with new ways to create value as we continue to support our customers' IT system and contribute to their business development.

We support the society and take responsibility in providing a secure IT system to sustain a suitable management foundation in the industry.
We constantly face new challenges as we seek to further our growth thereby improving our corporate value even more.
We show our transparent business management style through proactive public relations activities and through timely and appropriate dissemination of information.

By taking responsibility in protecting IT systems, we are able to contribute to the development and realization of a safe and secure advanced information network society.
In the midst of an advanced information network society, in order for people to live with a peace of mind, we make security policy recommendations and conduct network security activities as well as other IT related activities in general based on our wealth of knowledge and experience.
The youth of today, who will be leading the next generation, we conduct activities to support them in achieving their hopes and dreams for the future as they take advantage of LAC's experience and technology.