LAC is awarded the 2015 Frost & Sullivan Japan's Managed Security Service Provider of the Year Award.
05 JUN 2015 | press
LAC Co., Ltd. (Headquarters: Chiyoda-ku, Tokyo, CEO: Mr. Teruhiko Takanashi, hereafter referred to as LAC) received the "2015 Frost & Sullivan Japan Managed Security Service Provider of the Year Award" from Frost & Sullivan, a leading US research firm (the 2015 Frost & Sullivan Excellence Awards). LAC is highly praised by Frost & Sullivan for its rich experience and business strategy as a Security Service Provider in the Japanese market.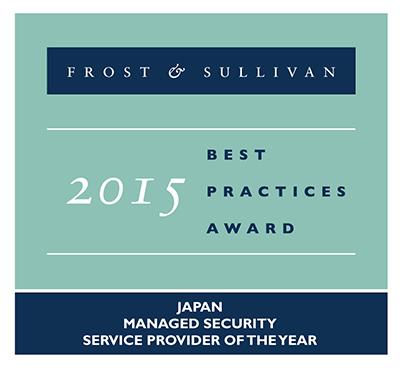 2015 FROST & SULLIVAN JAPAN MANAGED SECURITY SERVICE PROVIDER OF THE YEAR
Frost & Sullivan, with its headquarters in California has been conducting Global Market consulting in a wide range of fields including IT, Energy, Aerospace, Health, Food and others for more than 50 years.
The award is based on evaluations made in terms of market share, growth rate, business strategy, and cutting-edge innovations in the cyber security business. It is an award given to companies that drive the most excellent Cyber Security Services and this is the first time it is ever awarded to a Japanese domestic company.
The following are the Cyber Security Services that merited awards:
Security Monitoring Service (JSOC, Japan Security Operation Center)
Security Consulting Service
Security Penetration Service
Security Incident Response Service (Cyber Emergency Center, Cyber 119)
Frost & Sullivan's award was based on the following evaluation criteria: 1) Market Share, 2) Revenue Growth, 3) Growth Strategy and Implementation, 4) Degree of Excellence in Products and Technology Innovation. As the market leader in the Managed Security Services in the Japanese market, with a strong and stable performance, and with a solid track record of more than 20 years, they have built a strong position in the market, earned respect and commendations from the Japanese Government, Government Agencies as well as private companies, and Educational Institutions. As they are highly-regarded in the industry, they play a vital role as a Security Advisor to various Government Agencies.
(*The full message can be viewed here)
We are honored that our Security Services Business has been highly evaluated. As Japan gears towards the 2020 Tokyo Olympics, cyberattacks are becoming more and more sophisticated and as the industry globalization accelerates, the need for global support against cyber threats will be very critical. Our company recognizes this necessity, and in order to support the Global Business Industry, in addition to our domestic operations, we have established an Overseas Business Promotion office this year in order to cover a wider area abroad. With the deeply cultivated knowledge and experiences they have gained through the years, our security analysts have started to offer our security services globally. With these services, we are able to offer our foreign customers with the same Japanese quality of service. Our company is dedicated to grasp the ever-changing daily threats in order to provide our customers with a peace of mind by contributing to a Safe and Secure environment for your business.
About Frost & Sullivan
Frost & Sullivan, the Growth Partnership Company, works in collaboration with clients to leverage visionary innovation that addresses the global challenges and related growth opportunities that will make or break today's market participants.
For more than 50 years, we have been developing growth strategies for the global 1000, emerging businesses, the public sector and the investment community.
About LAC Co., Ltd.
https://www.lac.co.jp/english/
Established in 1986 for a system development project, LAC is a leading cyber security company that launched security services in 1995 for the first time in Japan. As a result of a business merger, the company was restarted as LAC Co. in 2007. LAC provides a wide range of security services, including: vulnerability analysis services supported by a proven track record; security monitoring/analysis services by JSOC, one of Japan's largest security monitoring centers, available 24 hours a day throughout the year; as well as Cyber Emergency support services that provide response and support in the event of a data breach and other emergencies. In addition to these, the company also offers total IT solution services - including system development services that originated from the development of platform systems for financial institutions - to government agencies, companies, and other organizations. As a security service provider, LAC has over 7,300 enterprise customers and 800 government customers in Japan.
* LAC, JSOC, LAC Falcon are patented by LAC Co.,Ltd in Japan and other countries.
* Names of the company/organization/products are all patented respectively.