ESG at LAC
Here we introduce LAC's ESG-related initiatives.
---
LAC's ESG Stance
S: Social
E: Environmental
G: Governance
LAC's ESG Stance
Management focused on ESG-related considerations (Environment, Society, and Governance) is now demanded of companies working to earn the trust and confidence of stakeholders, rise in public esteem, achieve sustained growth, and increase corporate value over the longer term.
At LAC we recognize that our corporate philosophy, to "become an indispensable member of society by constantly evolving and continuously growing with a high level of corporate management for sustainability", is both the starting point and at the same time signifies the social significance of the company's very existence.
By helping to ensure the safety of cyberspace, we help enable people to utilize information with peace of mind. We also strive to earn the trust of capital markets by promoting fair and transparent management.
Corporate Philosophy
Our goal is to become an indispensable member of the society by constantly evolving and continuously growing with a high level of corporate management for sustainability.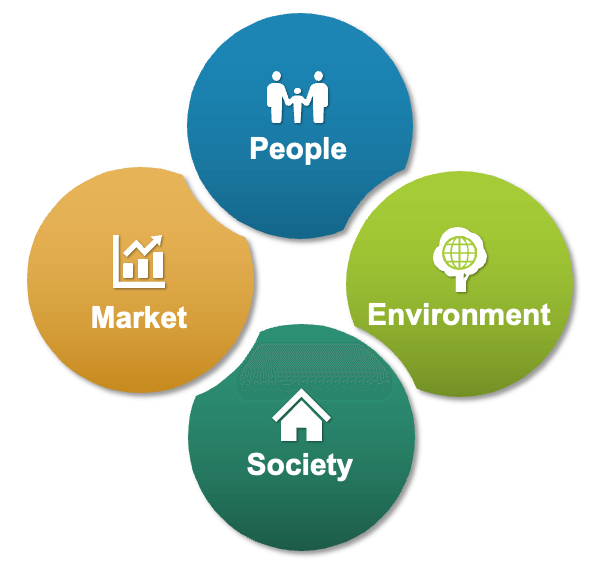 LAC efforts toward solving societal issues
LAC contributes to the solution of societal issues through its work in the two business fields of "cybersecurity" and "system development".
In particular, in response to the societal issue of cybercrime we are contributing to the realization of a safe and secure cyberspace as a leading company in the industry with our strengths in cybersecurity, one of our defining features. Such efforts also play a major role in increasing our corporate value.
In addition, through our corporate activities we are advancing a wide range of collaborative efforts and awareness-raising initiatives in the cybersecurity field for governmental agencies, educational institutions, and so on. We believe that such efforts will lead to increased understanding and awareness of cybersecurity, which in turn will lead to the promotion of security measures throughout wider society, thereby creating a virtuous cycle of increasing cyberspace safety and security through our business.
Through system development, we believe that we can contribute to the enrichment of society by means such as building infrastructure in on-premise and cloud environments that meet the needs of our corporate customers, helping them improve their operational efficiency and solve labor shortage issues through means such as workstyle reforms, and also reduce their environmental impact.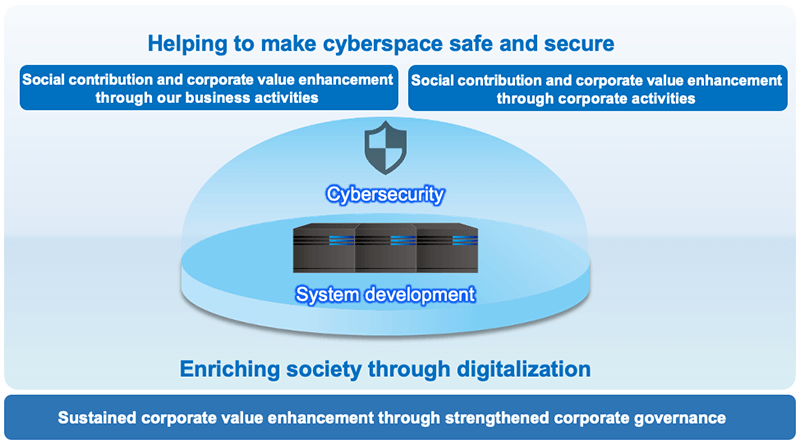 In the cybersecurity and IT services industries, where remarkable technological advances are being seen, securing diverse and talented human resources is imperative. To this end, we are actively working to advance workstyle reforms with focus on enhancing job satisfaction. And by promoting corporate activities that take diversity into consideration, we aim to contribute to the resolution of societal issues and enhance our corporate value in a sustained manner.
These efforts are the very essence of our corporate philosophy of being "an indispensable member of society". We believe that ESG initiatives are a crucial part of promoting "a high level of corporate management for sustainability".
Main initiatives pursued through our business
Main initiatives pursued through corporate activities
S: Social; E: Environmental; G: Governance
(Please click/tap on the tabs above for more details)