LAC Develops New AI Technology to Detect Fraud Transactions to Aid in Stopping the Flow of Capital for Financial Crime
Aim to Expand AI ZeroFraud to Financial Institutions in Japan and Eliminate Financial Crime
24 MAY 2023 | Press
On May 24, 2023, LAC Co., Ltd. (Head Office: Chiyoda-ku, Tokyo; President: Itsuro Nishimoto; hereinafter, "LAC") announced that the Financial Crime Control Center*1 (hereinafter FC3), which is managed by LAC, has developed an AI technology for detecting bank accounts that are being used fraudulently and has begun offering a service that incorporates the financial crime countermeasure solution AI ZeroFraud. Accordingly, the Company plans to fully develop its businesses with the aim of expanding the use of its financial crime countermeasure solution from fiscal 2023.
In recent years, more and more financial institutions have actively promoted the opening of online bank accounts to improve convenience for customers. While this does improve convenience, there are, however, increasing concerns about fraud transactions being opened for the purpose of crime.
To date, FC3 has provided technology that detects financial crime with a high degree of accuracy through the financial crime countermeasure solution AI ZeroFraud, which analyzes transactions by financial service users via artificial intelligence (AI). As a result, the service has been proven to be an effective deterrent to the theft of deposits from bank users such as fraudulent bank transfers via internet banking and special fraud through ATMs*2.
LAC successfully developed this AI engine, which detects fraud transactions*3 that are used to receive money stolen by criminals, through cooperation with a major regional bank.
If transactions, such as fraudulent bank transfers, are the entry point for stolen funds, fraud transactions used to receive these funds and withdraw cash can be considered as an exit point. If the AI can detect a connection between entry and exit points and identify that fraudulent bank transfers are being sent to fraud transactions, fraudulent bank transfers and special fraud can be detected and prevented even more effectively.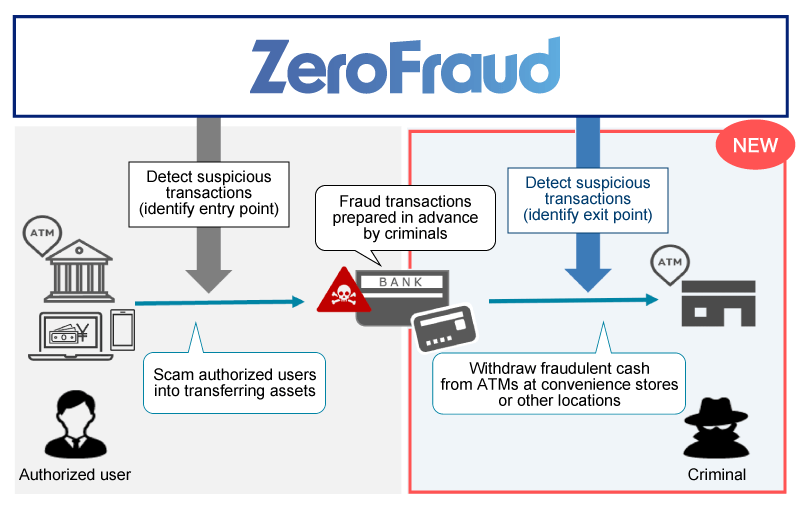 *1 FC3 was founded in May 2021 to support financial institutions with the aim of preventing and eliminating the damage from financial crime, which has been increasing in recent years.
*2 A method of special fraud that utilizes bank ATMs. According to classification by the National Police Agency, this applies to deposits and savings fraud, cash card fraud, and refund fraud.
*3 Accounts used for delivery of funds acquired by criminals. These are bank accounts that have been opened using fake identification cards for the purpose of criminal activities and accounts that have been acquired fraudulently by criminals through transfer and sale by third parties, also known as criminal accounts.
Business Design for AI ZeroFraud Created by LAC
Going forward, LAC aims for AI ZeroFraud to function as a cross-industry platform for financial crime countermeasures by providing the evolutionary this system to even more financial institutions in Japan. If financial institutions can jointly utilize information on fraudulent bank transfers and fraud transactions, it will not only prevent theft of deposits through financial crime but also enhance the credibility of businesses through secure and trustworthy financial services.
LAC will further promote and expand this business to achieve FC3's vision of realizing a safe and reliable financial services environment based on LAC's purpose-- Building A Trusted Society With Reliable Technology.
About LAC Co., Ltd.
https://www.lac.co.jp/english/
Founded in 1986 as a Systems Development business, LAC has a proven track record in the development of Financial Platform Systems and other social infrastructure systems. In 1995, we pioneered the country's very first Information Security Service and we are currently the leader in the Cyber Security field in Japan. Utilizing advanced IT Total Solution Services, we offer cutting-edge security technology for our customers including government offices, private companies and organizations.
* LAC is registered trademarks or trademarks of LAC Co., Ltd. in Japan and in other countries.
* Other company names, organization names, and product names are registered trademarks or trademarks of each company.
* Information mentioned is correct at the time of announcement. They may be subject to change without prior notice.