LAC Co., Ltd and INTERPOL Conclude Information Sharing Agreement on Cybercrime
~Quick and Rigorous Information Exchange Established to Contribute to Cybercrime Investigation~
16 MAR 2018 | press
On February 6, 2018, LAC Co., Ltd. (Headquarters: Chiyoda, Tokyo, President: Itsuro Nishimoto, "LAC") has signed an Information Sharing Agreement on Cybercrime (COOPERATION AGREEMENT ON THE EXCHANGE OF DATA PERTAINING TO CYBERCRIME, hereafter referred to as The Agreement) with INTERPOL (With headquarters located in Lyon, France).
Since December 2012, LAC has been participating in the partnership program of INTERPOL Global Complex for Innovation (IGCI) in Singapore to support cross-border cybercrime investigations.
With the conclusion of this agreement, we seek to further strengthen our cooperative relationship to develop and accelerate information sharing more than ever, and LAC shall provide independently gathered cybercrime-related intelligence in a more efficient and tightly-knit operation. As a result, LAC's cyber threat intelligence (cyber threat information) will be utilized in conducting cybercrime investigations on a global scale.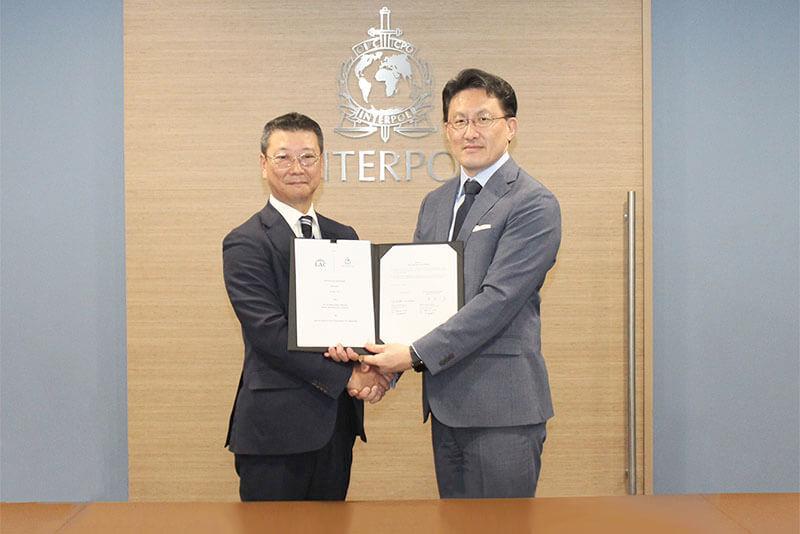 Going forward, LAC shall continue to contribute its efforts to support cybercrime-related investigations by the IGCI in order to realize a safe and secure internet environment.
Upon this announcement, we present IGCI Executive Director Noboru Nakatani's remarks as follows:
"Cybercrime is constantly changing and evolving. It crosses national borders and affects both the public and private realms, therefore close cooperation between law enforcement and private partners is necessary to deal with it more efficiently. Through this agreement, INTERPOL believes that we will be able to leverage LAC's intelligence expertise. Furthermore, by sharing information in real-time from LAC, we will be able to conduct highly responsive collaboration and information analysis in order to fight against cybercrime more effectively."
About LAC Co., Ltd.
https://www.lac.co.jp/english/
Established in 1986 for a system development project, LAC is a leading cyber security company that launched security services in 1995 for the first time in Japan. As a result of a business merger, the company was restarted as LAC Co. in 2007. LAC provides a wide range of security services, including: vulnerability analysis services supported by a proven track record; security monitoring/analysis services by JSOC, one of Japan's largest security monitoring centers, available 24 hours a day throughout the year; as well as Cyber Emergency support services that provide response and support in the event of a data breach and other emergencies. In addition to these, the company also offers total IT solution services - including system development services that originated from the development of platform systems for financial institutions - to government agencies, companies, and other organizations. As a security service provider, LAC has over 7,300 enterprise customers and 800 government customers in Japan.