LAC is awarded the Frost & Sullivan Excellence Award for two consecutive years
17 JUN 2016 | Press
LAC Co., Ltd. (Headquarters: Chiyoda-ku, Tokyo, CEO: Mr. Teruhiko Takanashi, hereafter referred to as LAC) received the "2016 Frost & Sullivan Japan Managed Security Service Provider of the Year Award" from Frost & Sullivan, a leading US research firm (the 2016 Frost & Sullivan Excellence Awards). LAC is highly praised by Frost & Sullivan for its rich experience and business strategy as a Security Service Provider in the Japanese market. It is now LAC's second year in a row to win the award.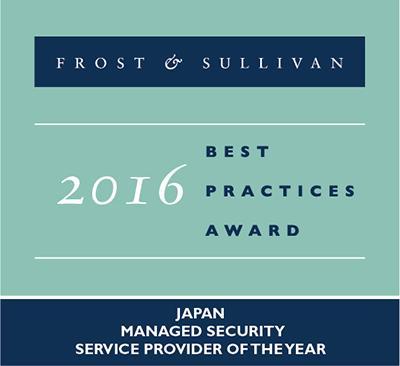 2016_JP_LAC_Analyst_Quote_English.pdf
Frost & Sullivan, with its headquarters in California has been conducting Global Market consulting in a wide range of fields including IT, Energy, Aerospace, Health, Food and others for more than 50 years.
The award is based on evaluation made in terms of 1) market share, growth rate, 2) business strategy and its implementation, 3) cutting-edge innovations in the cyber security business, and 4) Business innovation in products and technology. It is an award given to companies that drive the most excellent Cyber Security Services. Last year was the first time it was ever awarded to a Japanese domestic company.
Once again, the following are the Cyber Security Services that merited awards:
Security Monitoring Service (JSOC, Japan Security Operation Center)
Security Consulting Service
Security Penetration Service (Diagnostic Services)
Security Incident Response Service (Cyber Emergency Center, Cyber 119)
We are honored that our Security Service Business has been highly evaluated for the 2nd consecutive year. We believe that not only in Japan, but for the rest of the world, as we exchange information over the internet more than ever, cyberattacks will continue to become more sophisticated and the most important issue is how we can counter these attacks.
At this time, together with our award-winning security services, we will take advantage of this evaluation in building information systems and continue towards the innovation of our operations in order to contribute to our customers' peace of mind in a safe and secure business environment.
Click here for the full text of the Frost & Sullivan message.
About Frost & Sullivan
Frost & Sullivan provides global knowledge based on its own research to guide companies towards business growth. As a knowledge partner, it combines both research and consulting functions to help realize the creation of new and innovative growth opportunities for business. With an axis global network in over 40 locations covering 300 major markets and spanning 80 countries, it offers a 360-degree point of view through exhaustive findings such as megatrends, the rise of emerging markets overseas, global evolution of technology as it adapts to changes, and putting companies on a global stage for business success.
About LAC Co., Ltd.
LAC, founded in 1986 as a systems development business, is proud of its many achievements in developing systems such as the Financial System Infrastructure and support for Marketing Automation, and we also started developing Big Data Analytics for the infrastructure system of the society. In 1995, we were the first to start Information Security business in Japan and currently, we have become the market leader in the cybersecurity field using cutting-edge technology in offering total IT Solution Services to our customers such as government agencies, private companies and organizations. In 2016, Frost & Sullivan, a US company, has awarded us the "2016 Japan Managed Security Service Provider of the Year Award" for the 2nd consecutive year based on our highly-regarded "Security Monitoring Services", "Vulnerability Assessment", "Security Incident Response" and "Security Consulting."
* LAC and JSOC are registered trademarks in Japan and in other countries.
* Other company names, organization names listed above such as product names, or registered trademarks are the trademarks by their respective owners.